By the way, road traveling has its own fun, with a road trip you can experience those things, which you cannot experience during flight and train. Road trips are great for understanding and seeing things better. In this post, I will share my experience during the trip to Murudeshwar Shiva Temple Karnatka, which is surrounded by the Arabian Sea from three sides.
If you are planning for Murudeshwar Shiva Temple trip, then read this post till the end before going.
Murudeshwar Shiva Temple Karnatka is located in the Uttara Kannada district of Karnataka, which is surrounded by the Arabian Sea on three sides. Murudeshwar Shiva Temple is dedicated to Lord Shiva. The statue of Lord Shiva located in the Murudeshwar shiva temple Karnatka is considered to be the second-largest Shiva statue in the world. Pilgrims come from far and wide to see the huge and grand statue of Bholenath. The height of statue of Lord Shiva is so high that it can be seen from a distance.
Murudeshwar temple Karnataka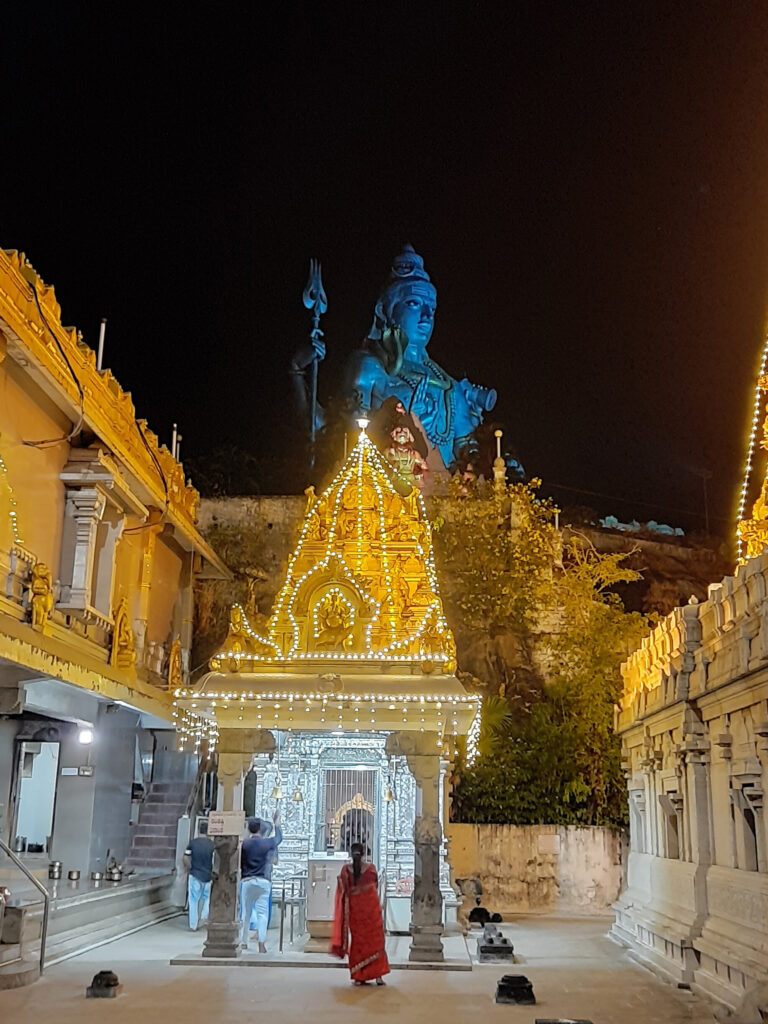 Hey guys this is Andy Rajput I am an influencer. I had read and heard a lot about this temple but seeing the huge statue of Lord Shiva with my own eyes became possible when I started following my passion. I started blogging in July 2022 and after the Thailand trip, I started my journey for the South India tour. November 28 was the day when I left Bangalore to Murudeshwar.
Murudeshwar Shiva Temple full Tour
While planning the Murudeshwar trip (Murudeshwar Shiva Temple Karnatka), I saw that Goa is about 200 km from Murudeshwar, then I added on Goa as well. Adding Goa to my plan, I made a 5-day trip plan, I will talk about that in my next vlog, Just coming to the point for Murudeshwar Shiva Temple.
Bangalore to Murudeshwar is about 500 km, I took a bus from Majestic bus stop Bangalore, Karnatka. For which I paid about 500 rupees. My journey started, but I did not know that this trip is going to be my adventure trip because I had absolutely no idea about this route. The route through which our bus was going is called the Konkan route. Let me tell you that the Konkan route is an adventure point in itself, so I suggest you that if you want to enjoy adventure while coming from this route, then come with your personal vehicle or bike. Believe me, coming from this route, you will experience amazing.
After traveling for 13 hours, I reached Murudeshwar at 8 pm. During the journey, I tried to capture as much as I could in my camera and presented it through a video which you will see at the end of this vlog post. Now let's know a bit about the history of Murudeshwar.
Murudeshwar Shiva Temple is surrounded by the Arabian Sea on three sides. To know more about Murudeshwar Temple and its history, read this article completely.
History of Murudeshwar Temple
It is said that the history of the Murudeshwar Shiva Temple Karnatka dates back to the Ramayana period. When Ravana, the king of Lanka, pleased Lord Shiva by worshiping him, Lord Shiva granted a boon to Ravana. Ravana asked Lord Shiva in a boon, my god come with me to Lanka and stay in Lanka forever. Later on, when Ravana was going towards Lanka with the Atmalinga, he had to keep the Atmalinga on the ground on the way and as a result the Shiva Linga was established at the same place. Ravana tried his best to lift the Shiva Linga but failed. After that he returned to his city after establishing the Shivling at the same place. The cloth with which the Atmalinga was covered flew off and fell to Mrideshwar which is presently known as Murudeshwar. This story has been described in detail in Shiva Purana.
Architecture of Murudeshwar Temple
The height of Murudeshwar Shiva Temple Karnatka is 123 feet which is the second largest statue of Lord Shiva in the world. Let me tell you that it took two years to build the statue of Lord Shiva. The colossal statue of Lord Shiva at Murudeshwar presents a mesmerizing sight. The main deity worshiped in the temple is Shri Mridya Linga which is a part of the original Atma Linga. The main gate of Murudeshwar temple is known as Gopura. Explain that the entire surface of the Murudeshwar temple has been made intricately and elaborately carved. Apart from the sanctum sanctorum, the entire temple has been modernized.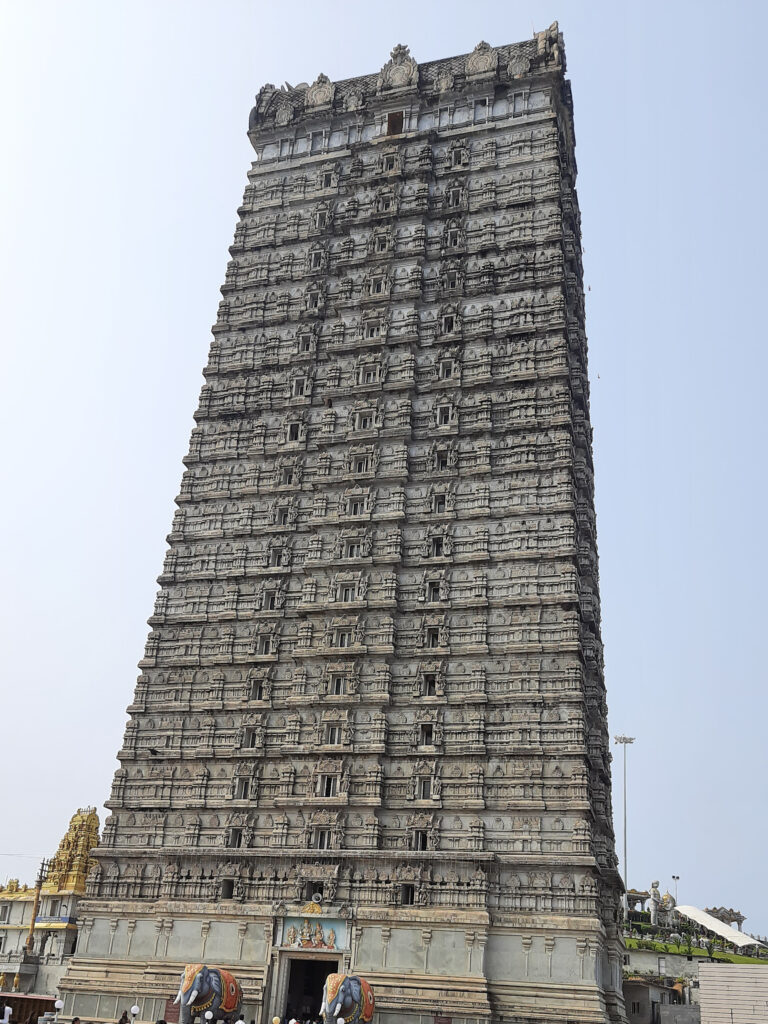 Murudeshwar Shiva Temple Karnatka Timings
Darshan Timings: 6:00 AM to 1:00 PM.
Puja Timings: 6:30 am to 7:30 am.
Rudrabhishekam: 6:00 am to 12:00 noon.
Afternoon Puja Timings: 12:15 PM to 1:00 PM.
The temple remains closed from 1 pm to 3 pm.
Darshan Timings: 3:00 PM to 8:15 PM.
Rudrabhishekam: 3:00 pm to 7:00 pm.
Evening Puja Timings: 7:15 to 8:15 pm.
Read this article also : Top 10 Places To Visit in Bangalore
Bhukailasa Cave Museum
After the temple tour, you can also visit Bhukailasa Cave Museum. But for that, you have to take a ticket of Rs.10/-. The whole story behind Lord Shiva's 'Atma Linga' and temple inside the cave, Ravana's tapas, and Ravana's futile attempt to get the Atma Linga and take it to Sri Lanka is depicted through the sculpture. This is very interesting, don't forget to check it out.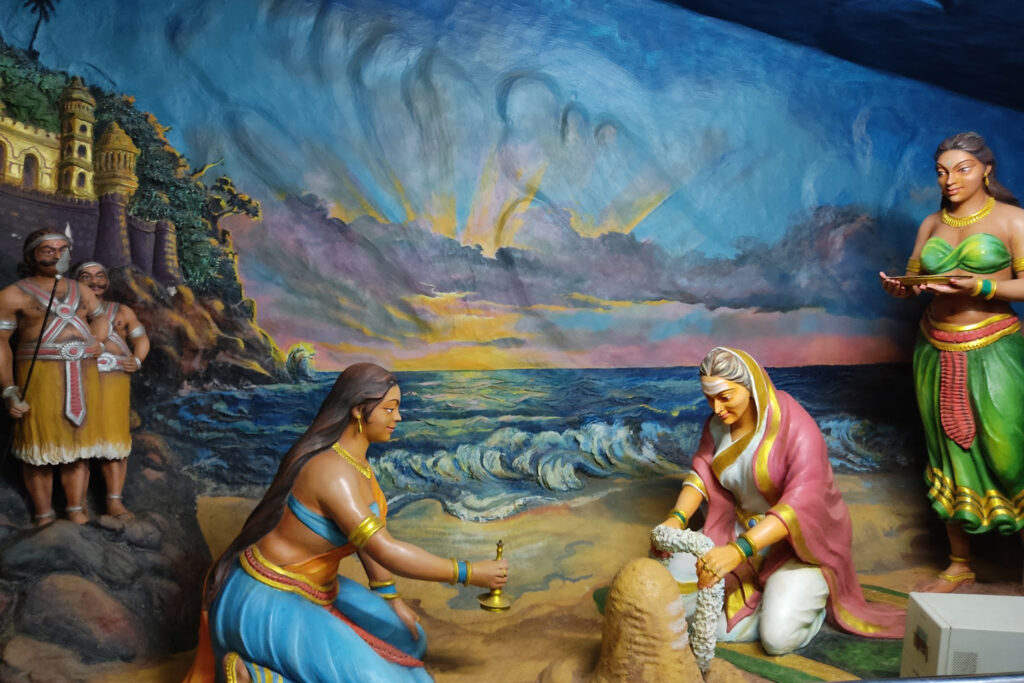 Murudeshwar Beach
When you have come to Murudeshwar Shiva Temple Karnatka, let us tell you that tourists visiting Murudeshwar Shiva Temple never forget to turn towards Murudeshwar Beach. You can be a part of water sports at Murudeshwar Beach, this beach is also a great picnic destination for tourists. There are many activities you can do in this beach. Like Boating, Shiva Back Side View, Dolphin Boat Ride, Underwater Photography, Snorkelling in Island etc.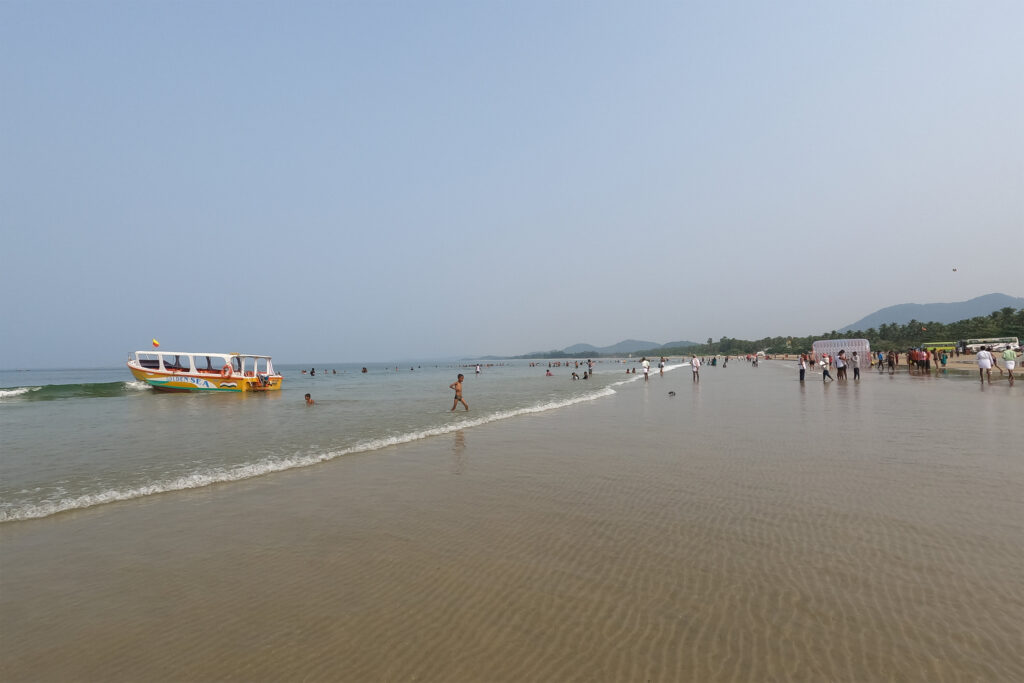 Murudeshwar Netrani Island
If you are in Murudeshwar, you can also visit Netrani Island during your tour. Netrani Island also known as 'Pigeon Island' is situated on the sea coast of Murudeshwar. If you see Netrani Island from a helicopter or high, it will look like a heart. In the calm waters of the Arabian Sea, tourists can enjoy scuba diving, boating, and catching and watching different types of fish.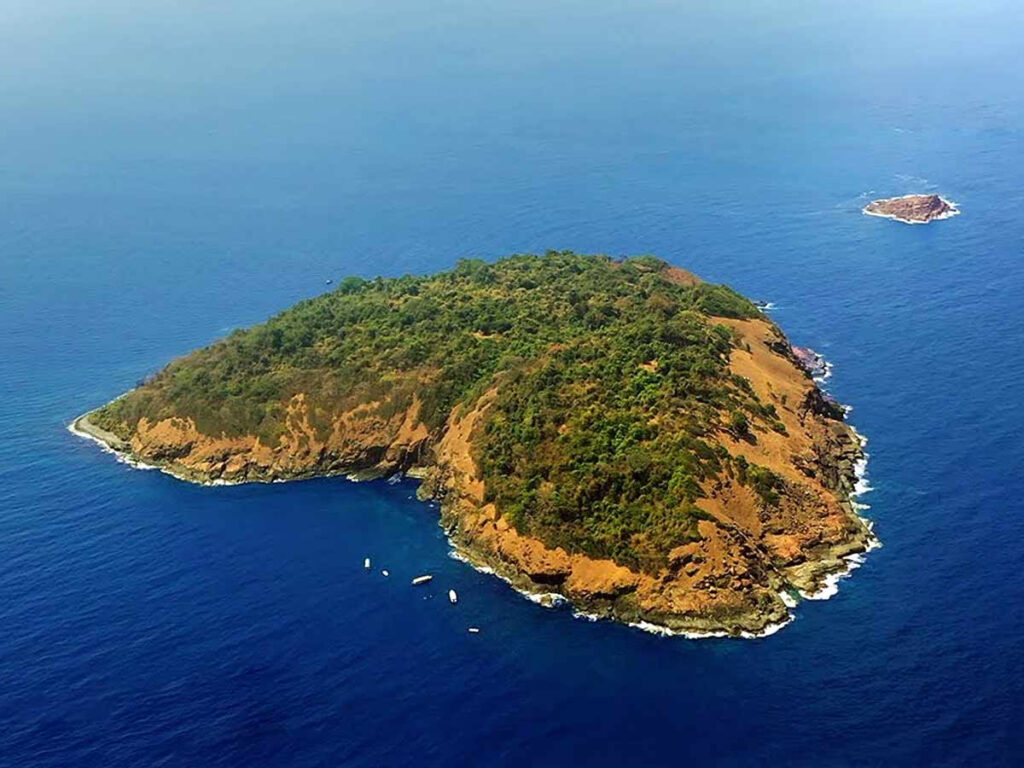 Best Time To Visit Murudeshwar Temple
By the way, you can go anytime to have the darshan of God. But the best time to visit Murudeshwar Temple is considered to be between October to May. Let us tell you that the festival of Shivratri is celebrated with great pomp in the Murudeshwar temple, which comes during February-March. Devotees come in large numbers to have darshan of Bholenath on the occasion of Shivratri.
Where To Stay In Murudeshwar
You will find hotels ranging from low-budget to high-budget around Murudeshwar Temple. You can book hotels as per your convenience and budget. All the hotels given below are available for online booking.
Kamath Yatri Nivas
Hotel Indraprastha
RNS Guest House
Hotel Kola Paradise
Central Lodge
How To Reach Murudeshwar Temple
You can choose any of the flight, train and bus to visit Murudeshwar.
How To Reach Murudeshwar Temple By Flight
Let us tell you that Murudeshwar temple is not connected through the air route. The nearest airport to Murudeshwara is Mangalore International Airport, i.e. located at a distance of about 159 km. From Mangalore airport, you can easily reach Murudeshwara temple with the help of local means here.
How To Reach Murudeshwar Temple By Train
If you are thinking of traveling to Murudeshwar temple by train, then let us tell you that Murudeshwar has railway connectivity, Murudeshwar Junction is the main railway station here. Which is well connected to the major railway stations of the country. Murudeshwar Temple is located at a distance of about 3 kilometers from Murudeshwar Railway Station.
How To Reach Murudeshwar Temple By Bus
If you have chosen the road route to reach Murudeshwar Temple. So let us tell you that Murudeshwar Temple is well connected to all the cities around it by road. You can easily reach Murudeshwar as per your convenience.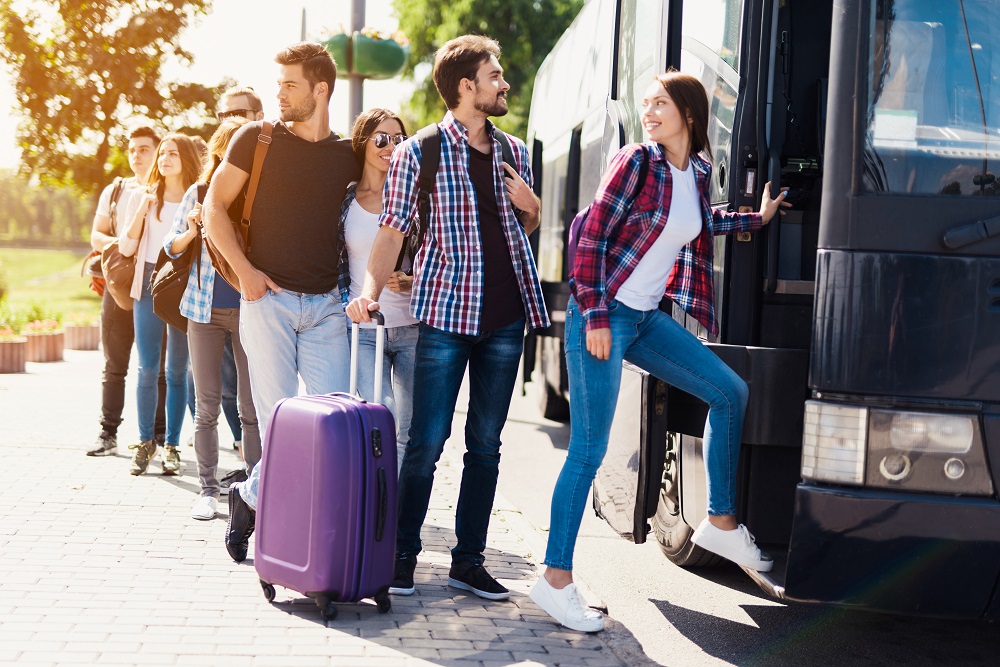 If you like this content please give us your valuable feedback and encourage us to create such content.
Watch on YouTube and support
Follow up on Instagram