Bangalore is located in the Karnataka state of South India, along with being the capital of Karnataka, it is the third largest city in the country. Bangalore is also known as the Garden City. With the development of IT business in Bangalore, a new name was given to this city, now Bangalore is also called IT City. Bangalore is also a very good place to visit. Apart from being a modern city, it also displays the ancient heritage and architecture of the city. Here you will also find man-made structures ranging from hill stations, gardens, museums. There are many attractions in Bangalore that beg your attention. This city is very famous for natural lakes, malls, museums, art galleries.
If seen, there are many places to visit in Bangalore, but in this article I will share about the top 10 places in Bangalore (Places To Visit in Bangalore). If you want to go to Bangalore to get acquainted with its natural beauty and man-made structures, then read this post till the end before leaving.
Top 10 Places in Bangalore/Places To Visit in Bangalore
Bangalore Palace
Bangalore Palace is a symbol of architecture and beauty, the history of this palace is told that where this palace is located, the place used to be owned by a school principal named Reverend J. Garrett. But Maharaja Chamrajendra Wadiyar liked the place and bought the entire land from the principal for ₹40,000 and here in 1874 the work of building a magnificent palace was started. After 4 years of work, it was completed in 1878 as Bangalore Palace.
The cost of building this magnificent palace was about ten lakh rupees at that time. For your information, let us tell you that this palace was not open to outsiders earlier, but in 2005 this palace was opened as a tourist place. The Bangalore Palace is situated amidst 450 acres of large lush green lawns. The lush green meadows and big and small trees located in the garden of this palace add to the beauty of this palace.
Read this article also : Trip to Murudeshwar Shiva Temple Karnatka
Cubbon Park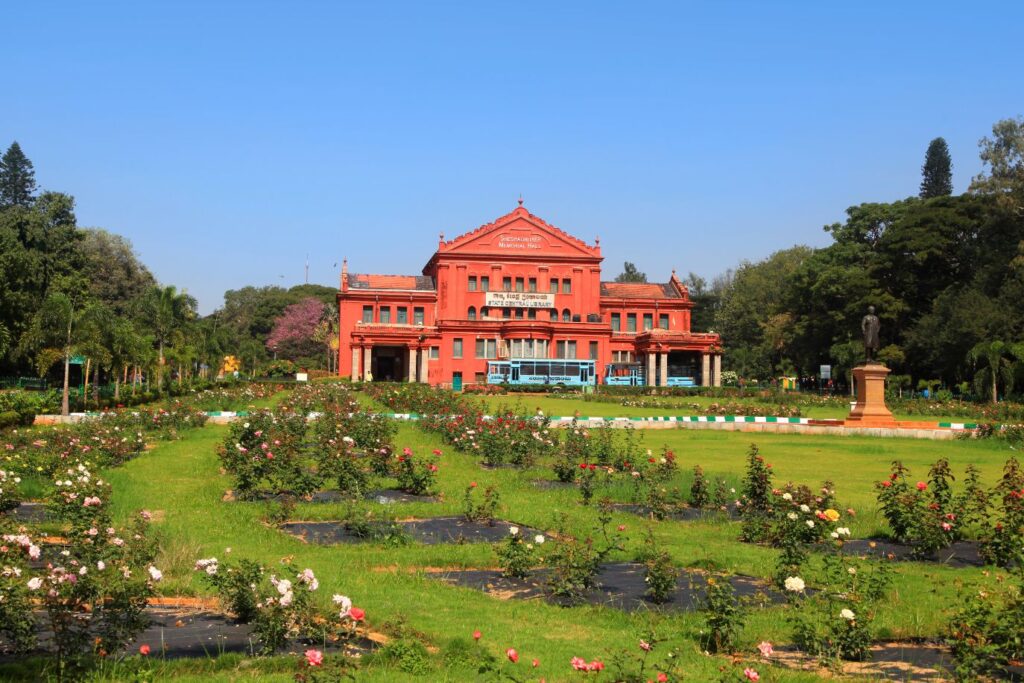 Cubbon Park was established during 1870 AD. Spread over an area of 300 acres, Cubbon Park is one of the major sightseeing places in Bangalore. At the time of the construction of this park, it was named Meads Park after Sir John Meade. Then after a few years it was renamed as Cubbon Park after Sir Mark Cubbon. There are more than 5000 trees in this park. Apart from being a scenic spot, some of the major structures of the city such as Attara Kacheri, Cubbon Park Museum and Seshadri Iyer Memorial Park are also located here. Another famous attraction in Cubbon Park is The Bangalore Aquarium, which is the second largest aquarium in India. Cubbon Park was originally spread over 100 acres, which was later expanded to 300 acres.
Cubbon Park Timings: 6:00 AM – 6:00 PM
Cubbon Park Entry Fee: Free
Lalbagh Botanical Garden
Lal Bagh is a beautiful garden located in Bangalore. The construction of this garden was started by Hyder Ali in 1760 and later completed by his son Tipu Sultan. It is a nationally and internationally renowned center for botanical artefacts, scientific study of plants and conservation of plants. Spread over an area of about 240 acres, this garden has vast greenery, hundreds of years old trees, beautiful lakes, lotus ponds, rose beds, rare temperate and temperate plants, ornamental flowers attract tourists.
About 1,854 species of plants are found in Lal Bagh city. The garden has rare plants of French, Persian and Afghan origin and has the status of a Government Botanical Garden. Lal Bagh Rock which is more than 3000 million years old is a major attraction.
Lalbagh Botanical Garden Timings: 6:00 AM – 7:00 PM
Entry fee of Lalbagh Botanical Garden: For adult tourists: Rs 10
Bannerghatta National Park
Bannerghatta National Park is a large park of flora and fauna located 35 km from Bangalore. This national park was established in the year 1971. Spread over a vast area of about 104.27 sq km, the park also includes the country's first butterfly park. Other attractions here are ten reserve forests of the Anekal range of the Bangalore Forest Division, an aquarium, a zoo, children's park, crocodile farm, snake park, prehistoric animal park and a museum. The mixed collection of wildlife here includes elephant, panther, jackal, fox, wild boar, sloth bear, India gazelle, spotted deer, porcupine, Asiatic lion, Royal Bengal tiger, monitor lizard and cobra.
Bannerghatta National Park entry fee
Indian – Adult : Rs 260,
Children between 6 and 12 years: Rs 130
Senior Citizen (60 years and above): Rs 150
Safari for Foreigners – Adults: Rs 400 Children: Rs 300
Innovative Film City
The Innovative Film City in Bangalore is an Indian theme park located in Bidadi, just 40 kilometers away on the way to Mysore. One of the most popular tourist attractions in Bangalore, this place covers about 58 acres of land. Spending the whole day here with your family and friends will give you a great experience. The main attractions of Film City include Innovative Studios, Museum, 4D Theatre, Toddler's Den, Louis Tassoud Wax Museum and theme based restaurants. Specially designed for kids in Vannado City. Not only this, in the Dinosaur World here, you will not be able to live without being thrilled by seeing the statue of a dinosaur. Seeing the haunted palace will also prove to be a memorable experience for you. And in the Miniature City you can see the replicas of some of the wonders and important places of the world. So make sure you enjoy this place with your family or friends while visiting Bangalore.
Innovative Film City Timings : 10:00 AM – 7:00 PM
Entry fee of Innovative Film City: Rs 600
Iskcon Temple Bangalore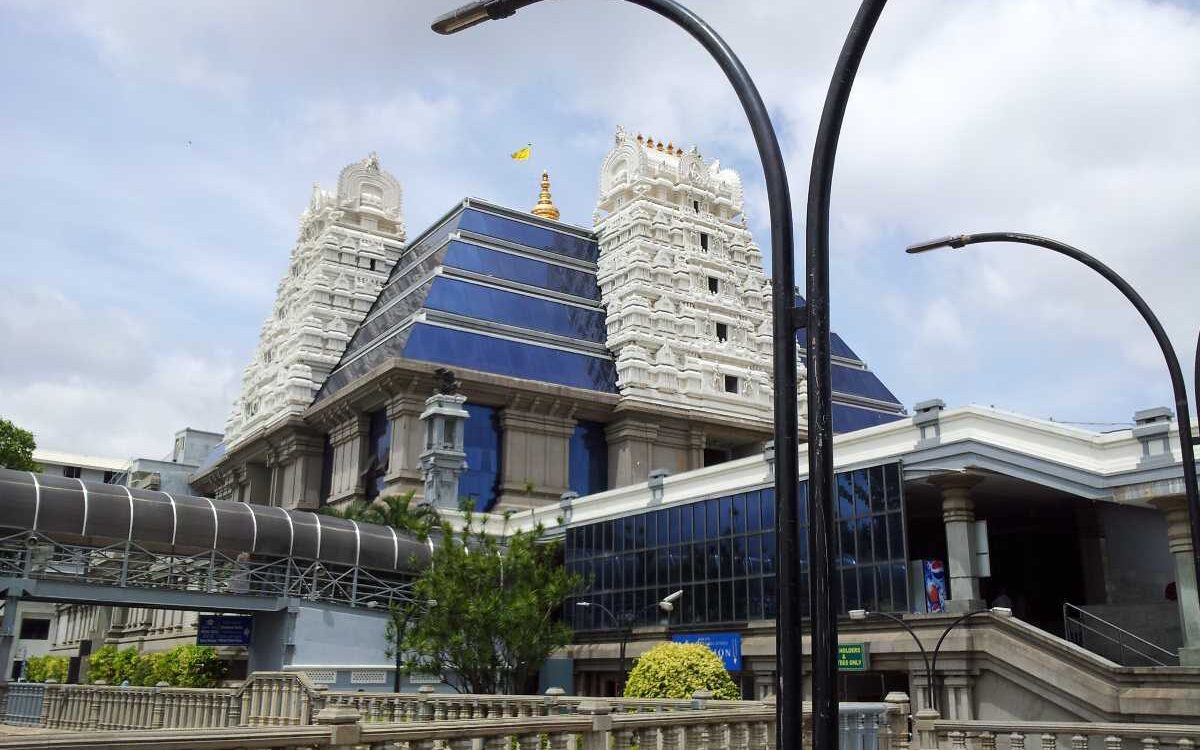 ISKCON Temple Located in the Rajajinagar area of Bangalore, it is a huge temple dedicated to Lord Krishna. This ISKCON temple was completed in 1997. Apart from a religious temple, the ISKCON temple is also a cultural complex, with dedicated deities of Sri Radha Krishnachandra, Sri Krishna Balarama, Sri Nitai Gauranga, Srinivasa Govinda and Sri Prahlada Narasimha. The temple arranges programs in community centers for Krishna consciousness and awareness of the Lord. Prayer services are held here regularly.
Nandi Hills (Hill Station near Bangalore)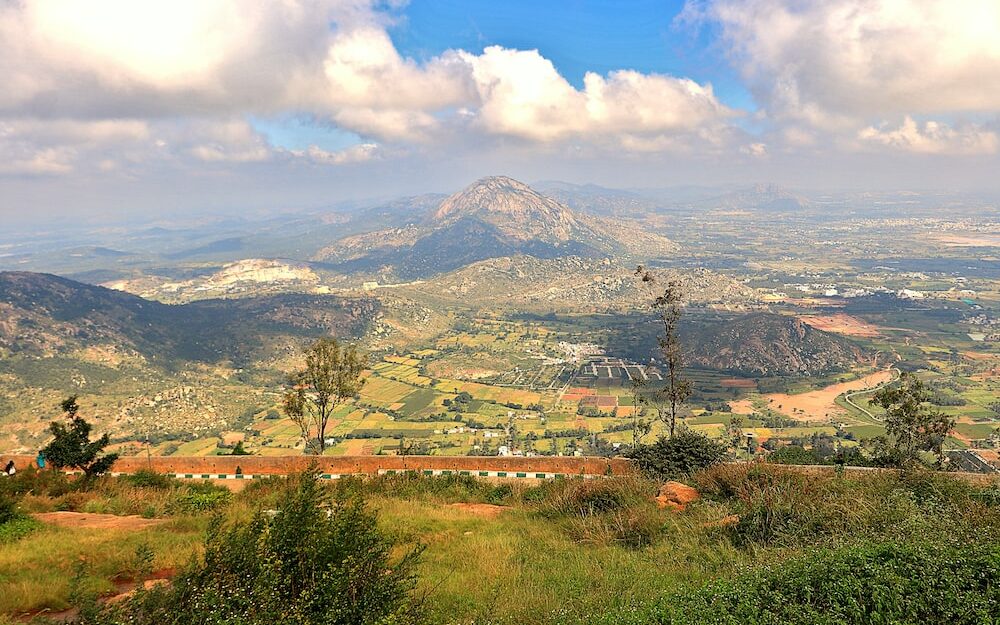 Nandi Hills is the most beautiful hill station near Bangalore. Nandi Hills is located in the Chikkaballapur district of Karnataka, which is very beautiful and center of attraction situated at an altitude of about 4800 feet above sea level. This Nandi Hills is counted among the most beautiful hills station in India. Nandi Hills is also known for its natural beauty and activities like trekking. The greenery and beauty here attracts tourists, here you can enjoy paragliding and trekking along with beautiful views. For your information, let us tell you that before independence, Nandi Hills were used by the British for a wonderful holiday and picnic. The Nandi Fort situated on the hills is a very ancient fort built by Tipu Sultan. Many ancient and attractive temples are also located in Nandi Hills. This beautiful Nandi Hills is also known as Nandi Durga and Nandi Fort.
Read this article also: Nandi Hills : The most beautiful hill station near Bangalore
Shivoham Shiva Temple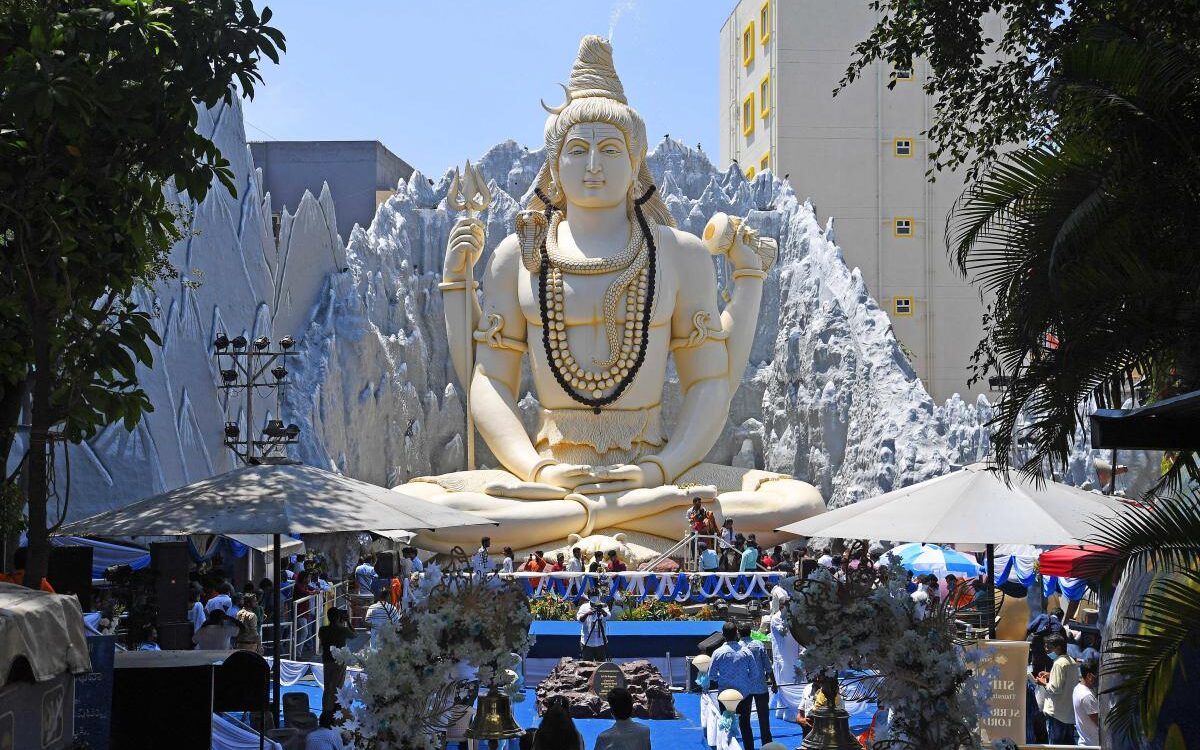 This temple is considered to be one of the most beautiful Shiva temples in the country. A 65 feet tall idol of Lord Shiva is carved out of white marble along with a 32 feet tall idol of Lord Ganesha and a 25 feet tall Shiva Linga. The beautiful idols of Lord Shiva and Lord Ganapati are a major attraction for all the devotees visiting the temple. This place is a beautiful pilgrimage center for all the devotees of Lord Shiva. Lord Ganapati is also worshiped in the temple premises and regular aartis and mantras are chanted by the priests. This temple in Bangalore was completed in 1995. Located on Airport Road, this Shiva temple attracts a large number of people. This temple remains open for 24 hours, you can visit this temple anytime.
Thottikallu Falls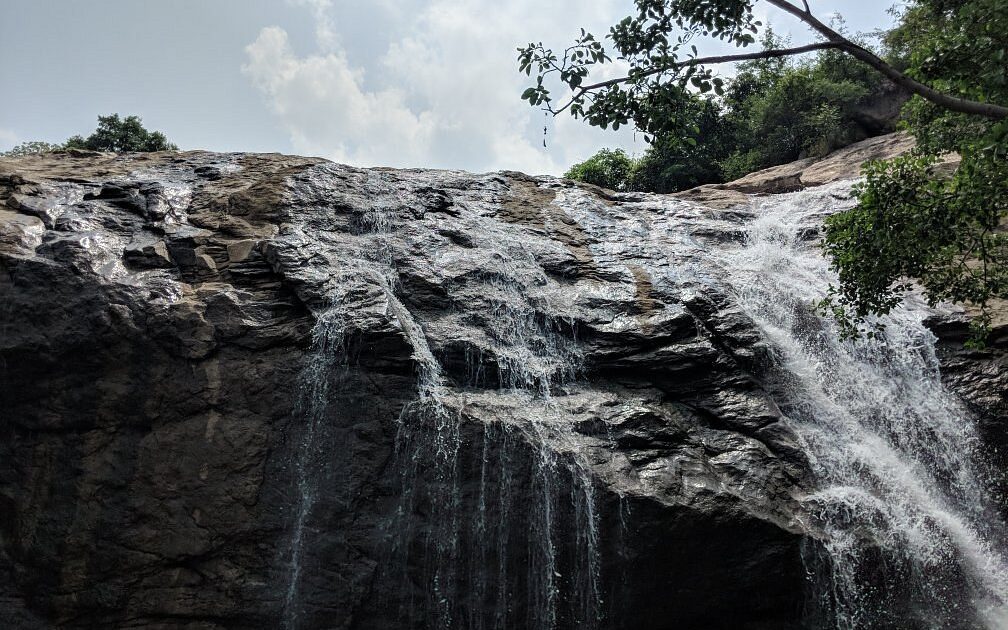 Thottikallu Falls is only 35 km from Bangalore. The site is excellent for trekking or just spending the whole day away from the clatter of the city.
Tipu Sultan's Summer Palace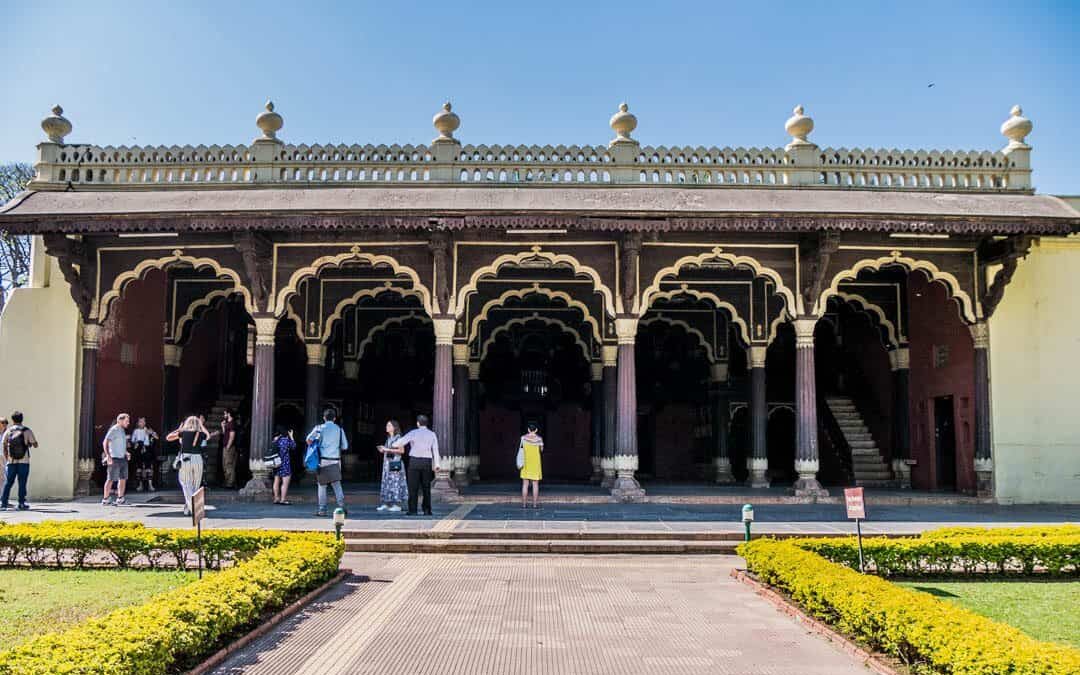 The 'Summer Palace' built between the fort located in the center of Albert Victor Road and Krishna Rajendra is a beautiful specimen of Indo-Islamic architecture. It was started by Sultan Hyder Ali of Mysore and completed by Tipu Sultan in 1791. Tipu Sultan used to use this grand palace in summer, his grand palace is known as 'Abode of Happiness' and 'Rash-e-Jannat' means 'Envy of Heaven'. A small part of the fort also houses a museum depicting various events from the life and times of Tipu Sultan.
Tipu Sultan's Summer Palace Timings : 10:00 AM – 6:00 PM
Entry fee for Indian citizen : Rs. 15 and foreigner Rs. 200
Local Street Food Of Bangalore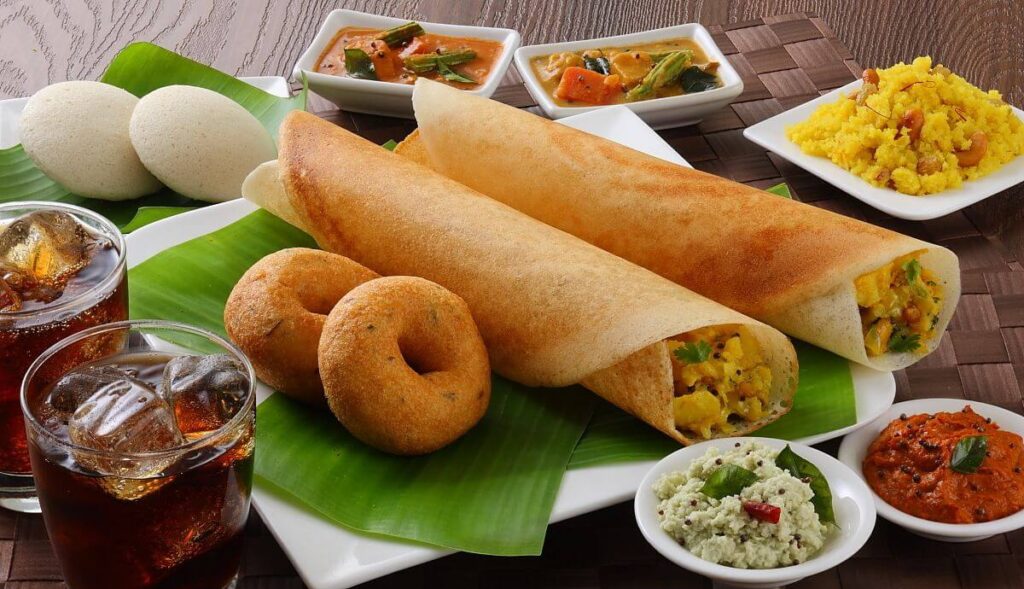 On hearing the name of the city of Bangalore, the scene of lifestyle, excellent food, shopping malls and IT parks comes to the fore. Being a modern city, there are many options for food in Bangalore, but the traditional local food here is Udupi and Indian dishes. In which you can taste many dishes like Dosa, Idli, Bassi Beel Bhaat, Pongal, Upittu. Apart from this, you can enjoy Tandoori Chicken, Shake Kebab, Bangalorean Biryani, Chicken Kebab and many more dishes here.
How To Reach Bangalore
Being the third largest city of India, Bangalore is very well connected to all parts of India by flight, train and road, due to which tourists can easily reach Bangalore by traveling here by flight, train or road.
Local Transport In Bangalore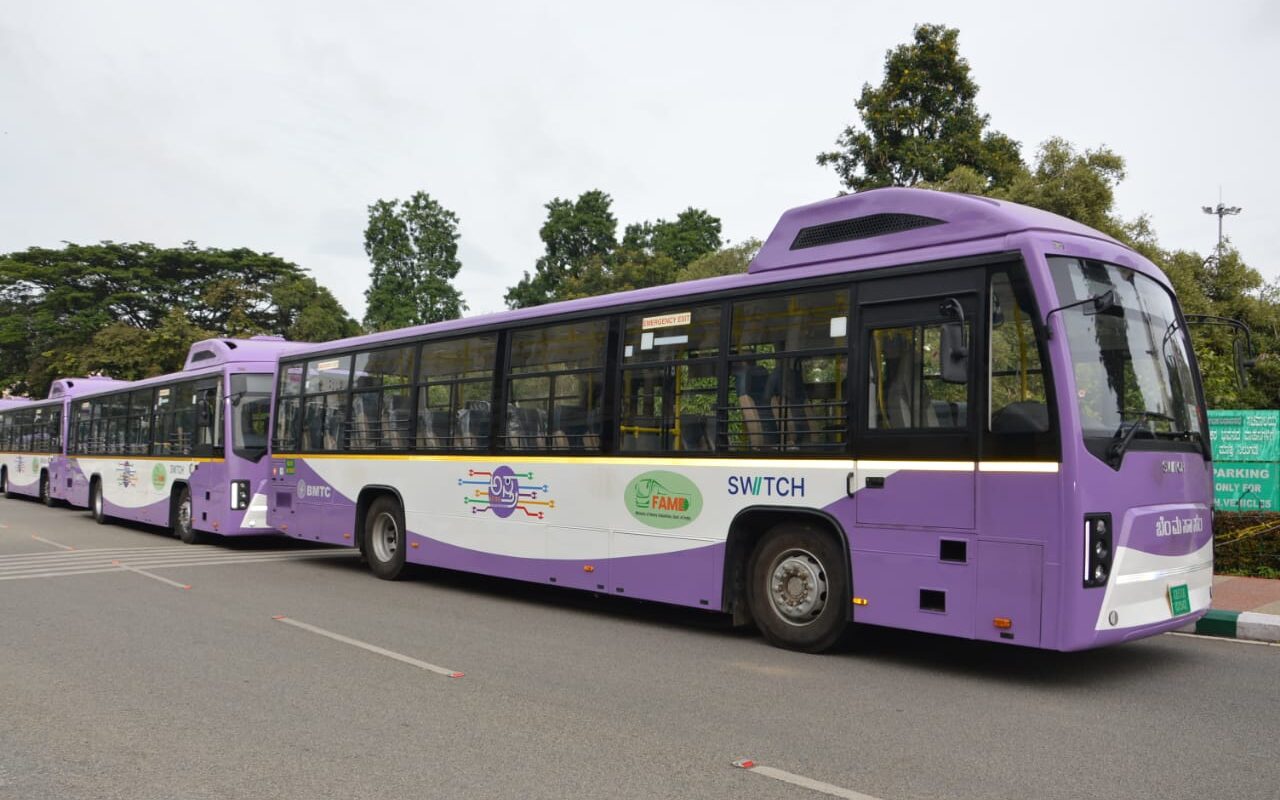 The Bangalore Metropolitan Transport Corporation is an important mode of transport in the city. It connects the entire city with various routes making travel simple. Volvo buses are also available throughout the city. From the airport, you can take buses to reach different parts of the city. Bangalore Airport Bus Service operates frequent buses throughout the day, and there are some buses that operate at night as well. Ola cabs and Uber are available within minutes. Three-wheeled auto-rickshaws are a popular mode of transport. Metro services are now available in many areas in the city. Around 40 metro stations are spread over the Green Line and the Purple Line, with Majestic Station (Kempegowda Interchange) being the only station that connects these two metro lines. Metro operates from 5 am to 11 pm.
Bangalore Images
If you like this content please give us your valuable feedback and encourage us to create such content.
Follow up on Instagram
View this post on Instagram